When it comes to fall wedding invitations, there are so many different styles you can choose from. This season, which happens to be the most popular time of the year for weddings, is best known for rustic everything, but if that's not quite your aesthetic, you've got plenty of other options for your wedding stationery. We scouted some of our favorite online wedding invitation retailers to find these unique designs, which range from rustic and country chic to classic, boho, minimalist, vintage, and more.
Below, read more about fall wedding invitations and see our picks that you can buy right now. 
Fall wedding invitation colors
Traditional fall wedding colors include warm palettes and hues, such as orange, yellow, red, burgundy, rose gold, bronze, and brown. All of these colors are also popular for fall wedding invitations, but don't be hesitant to go beyond the norm. For minimalist and classic weddings, we love a simple black and white color palette (you can never go wrong with the basics). Jewel tones are great for creating a dramatic, glamorous look. You can also use moody colors for a mysterious, spooky season vibe, or embrace muted pastels, such as sage green, dusty blue, mauve, and heather purple. Metallic accents, such as copper, silver, and yellow gold, will add a seasonal shimmer to your wedding invites. 
Fall wedding invitation designs
If you guessed leaves, pumpkins, sunflowers, trees, and burlap to be some of the most popular fall wedding ideas, you would be correct. These seasonal, rustic-inspired details are ideal for invitations if you're getting married at a barn or other casual setting. But if you want to convey a fall aesthetic in a more subtle way, floral prints, watercolor washes, and greenery motifs are just a few ideas. Focus on using an autumnal color palette when going with a less obvious fall design. 
When should you send fall wedding invitations? 
In general, your wedding invitations should be mailed between six and eight weeks before your wedding. Mail them out sooner if your wedding date falls on or near a holiday, such as Labor Day, Rosh Hashanah, Halloween, or Thanksgiving—your guests will need extra time to plan and make accommodations as necessary.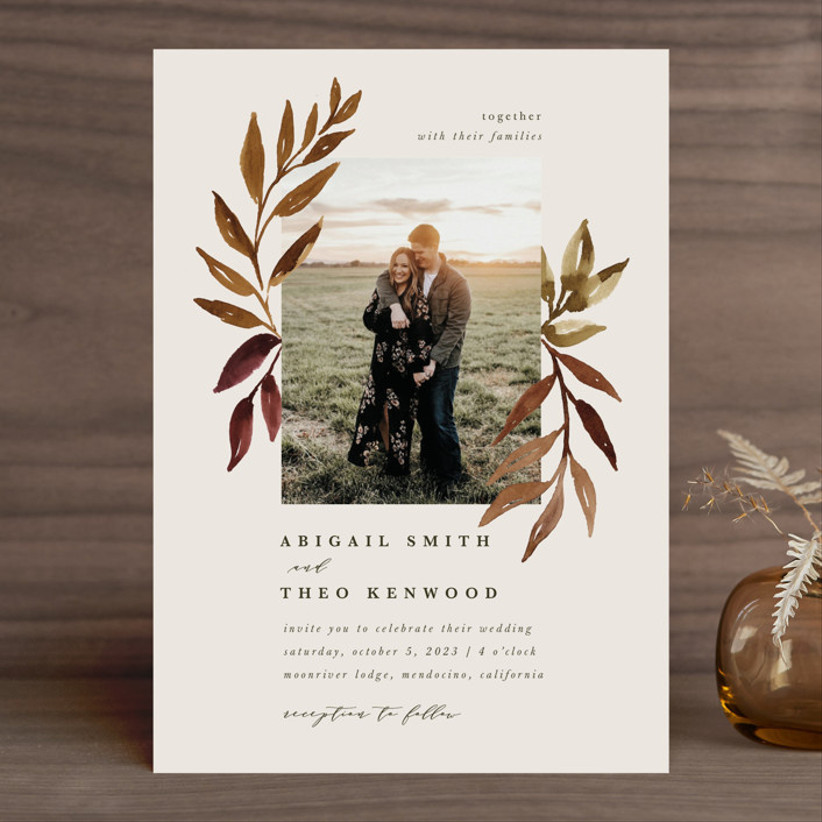 Show off one of your favorite engagement or relationship photos with this adorable, customizable fall wedding invitation. 
Kate Ahn botanical portrait invitations, $234 for 100, Minted
Thanks to the watercolor flowers and antlers, this elegant-meets-rustic wedding invitation would be perfect for an upscale barn or countryside venue. 
SundayLoveDesignCo. slate blue pocket wedding invitation, from $7, Etsy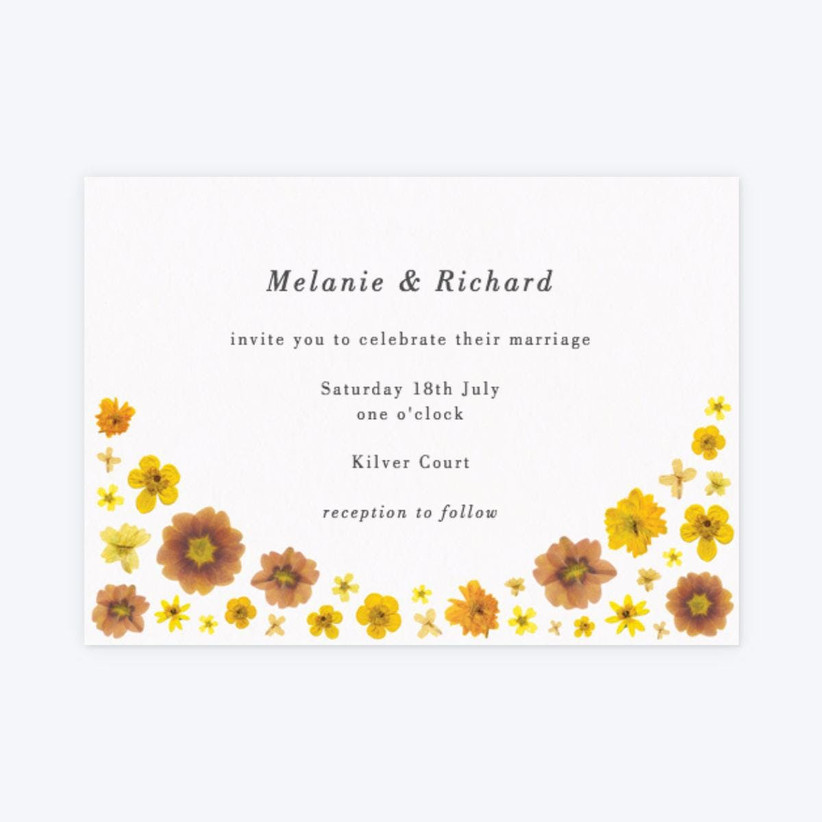 Pressed flowers are one of our favorite of-the-moment wedding invitation trends, and while these yellow flowers aren't actually real, they're just as cheerful and artistic. 
MR Studio London yellow blossoms invitation, $30 for 10, Papier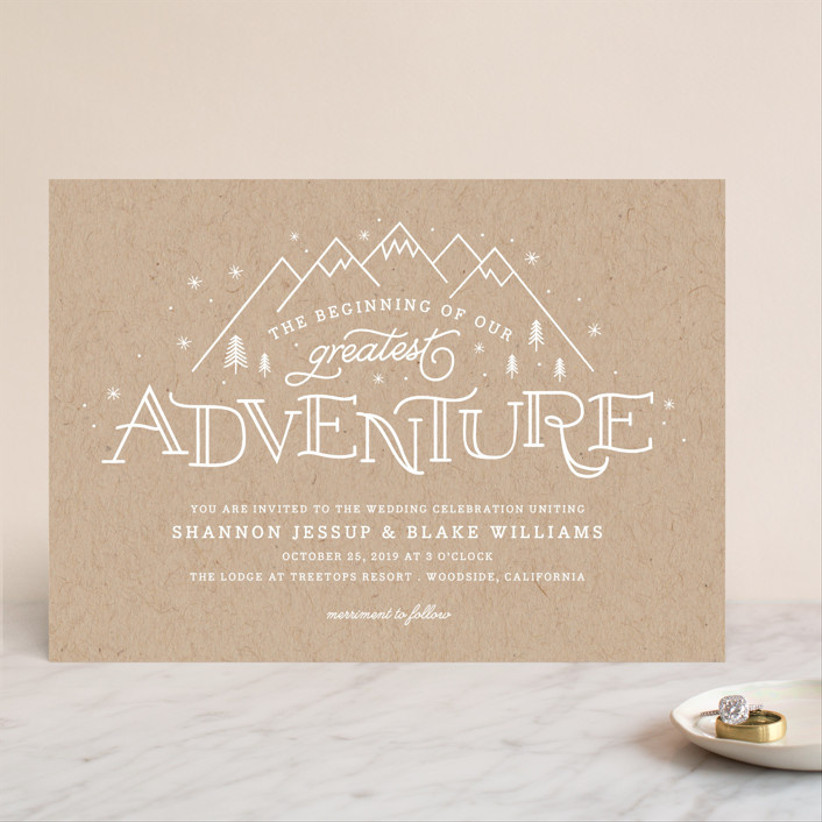 Get everyone excited for your next big adventure with this mountain-themed fall wedding invitation. 
Sarah Brown adventurous invitations in kraft, $234 for 100, Minted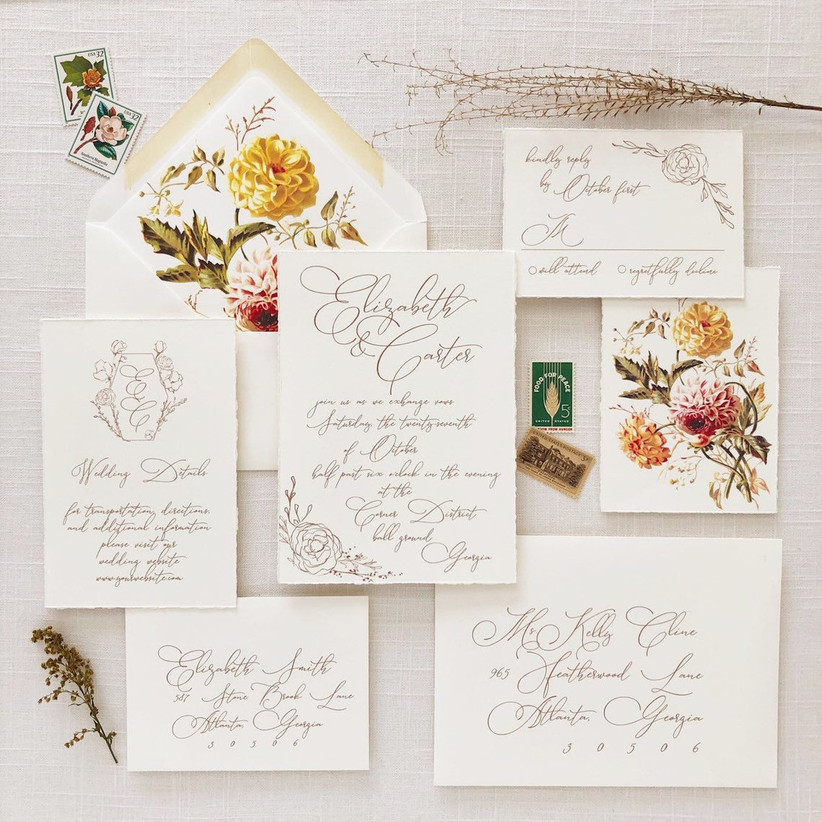 If you're having a classic fall wedding, this calligraphy stationery suite is a beautiful addition to your aesthetic. The vintage-style dahlia illustrations are colorful and autumnal, yet very sophisticated and timeless.  
TigerLilyInvitations calligraphy and dahlia wedding invitation, $5, Etsy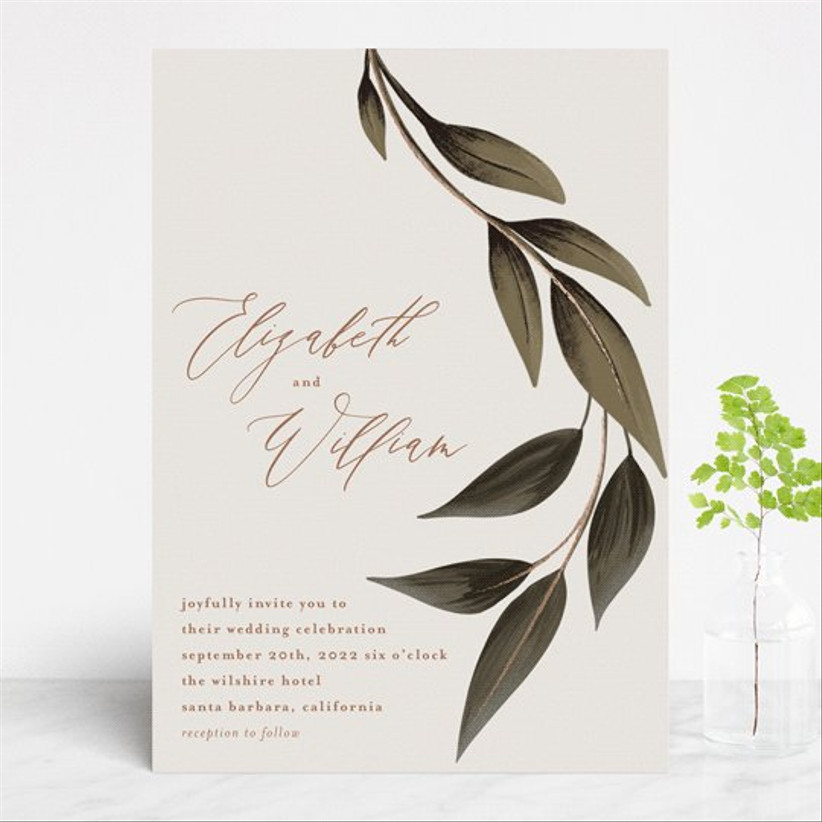 Choose this fall wedding invitation if you're incorporating greenery into your floral arrangements. Love the design but not the colors? No problem—there are 12 additional foil and background options to choose from. 
Susan Moyal cascading vine invitations, $270 for 100, Minted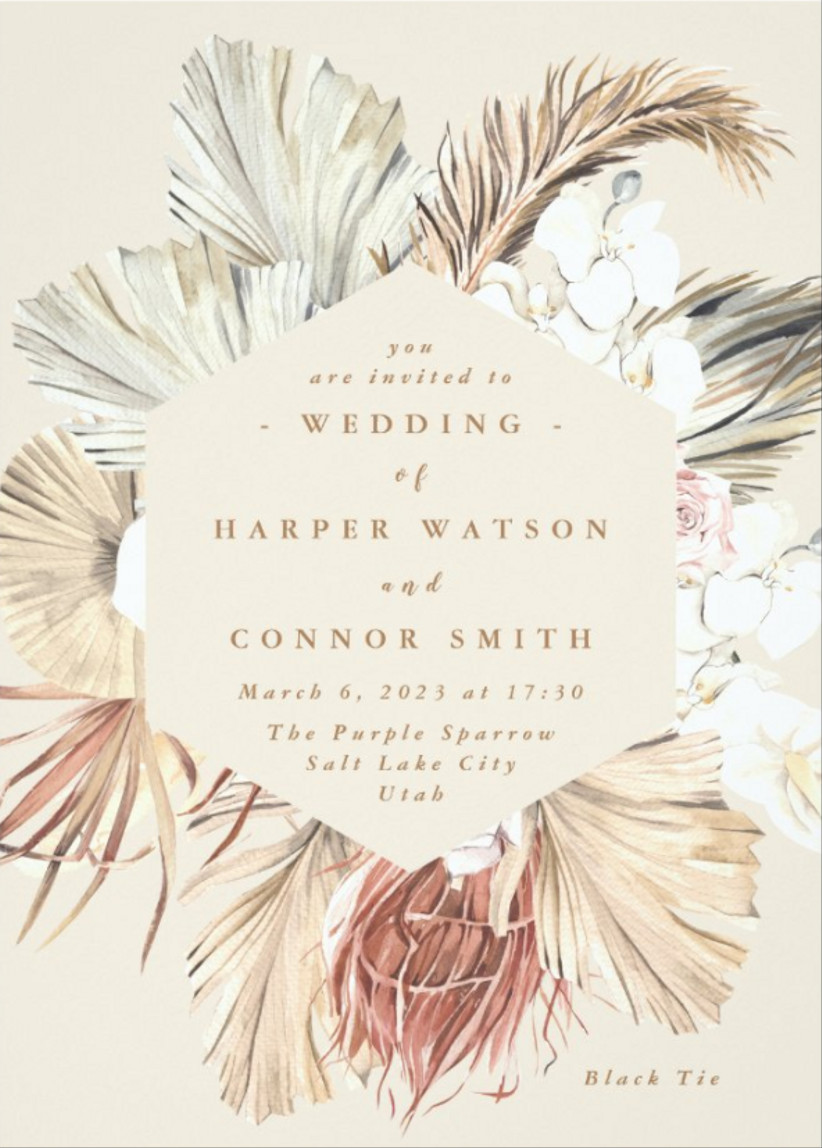 This ultra-trendy invitation is a must-see if you love bohemian style. 
Phrosne Ras Design dried floral invitation, $3, Zazzle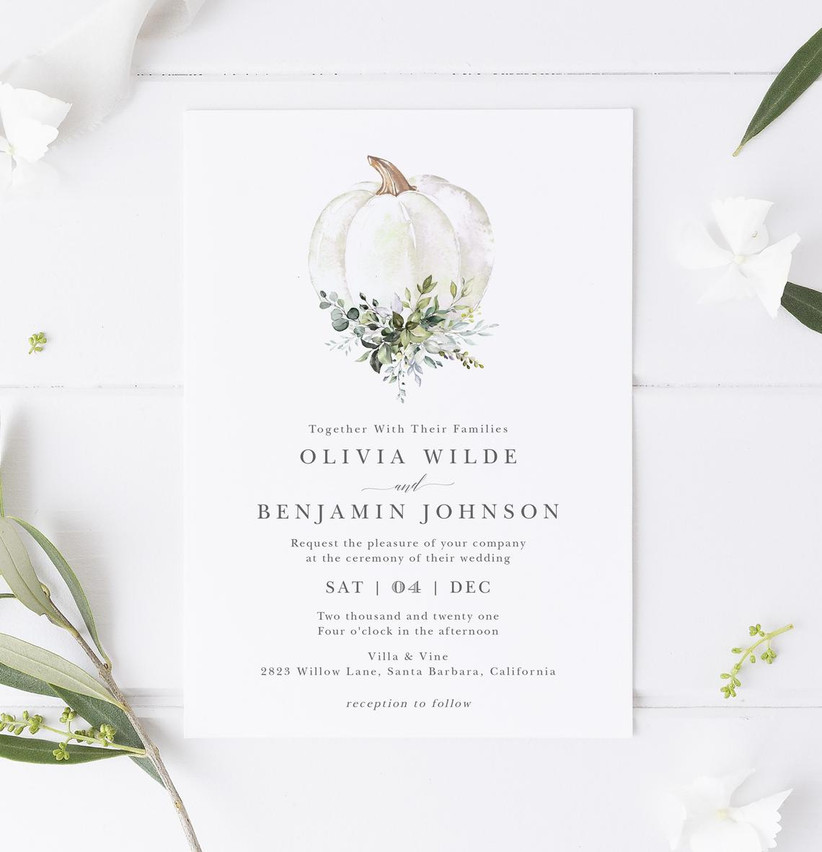 If orange pumpkins don't exactly go with your wedding theme, you can still incorporate them into your fall wedding invitations—just choose a neutral white pumpkin design instead. 
AverlyPaperie pumpkin wedding invitation template, $8, Etsy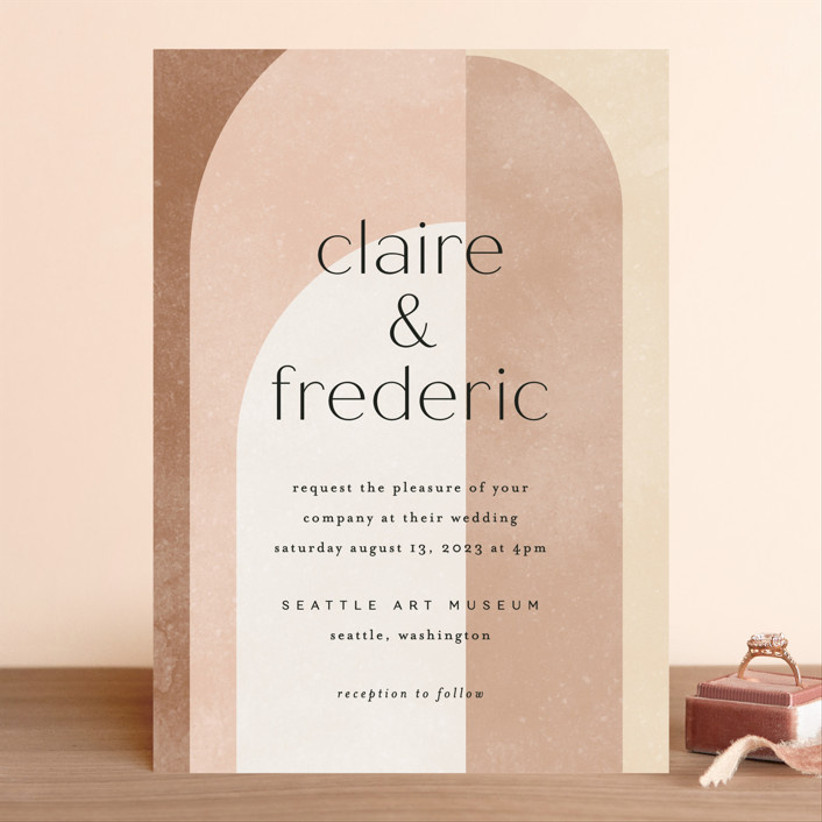 This invitation could work for so many different wedding themes, from modern industrial to eclectic and free-spirited. We love this terracotta-inspired color palette, but you can also choose from white, navy blue, emerald, and more. 
Kelly Schmidt arches invitations in terracotta, $234 for 100, Minted
Bright orange watercolors adds a pop of autumnal color to this otherwise minimalist invitation.  
WhiteLaceDesign orange wedding invitation, from $4, Etsy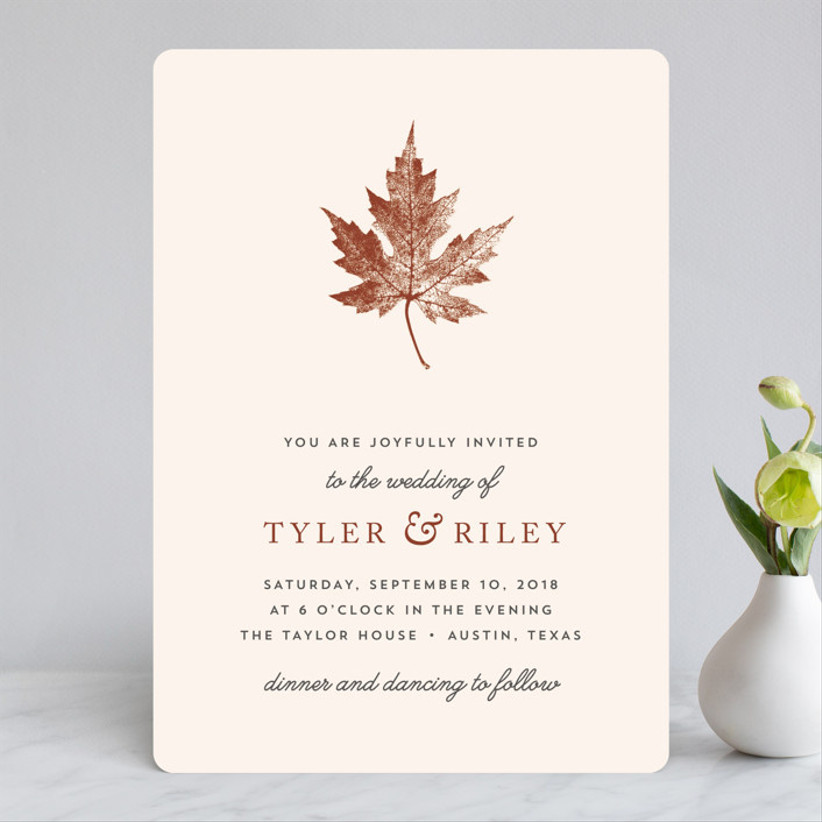 A single leaf motif gives this fall wedding invitation just enough seasonal flair. If you love the design, you can also order matching stamps, table numbers, thank you cards, and favor tags. 
Katharine Watson leaf print invitations, $234 for 100, Minted
Wooden invitations are a truly unique way to wow your guests. Made from actual wood veneer, this invitation comes complete with lace laser-cut gatefolds, a matching reply card, and a vellum belly band with a customized tag to seal the suite together. 
DesignedWithAmore laser-cut wedding invitation, from $6, Etsy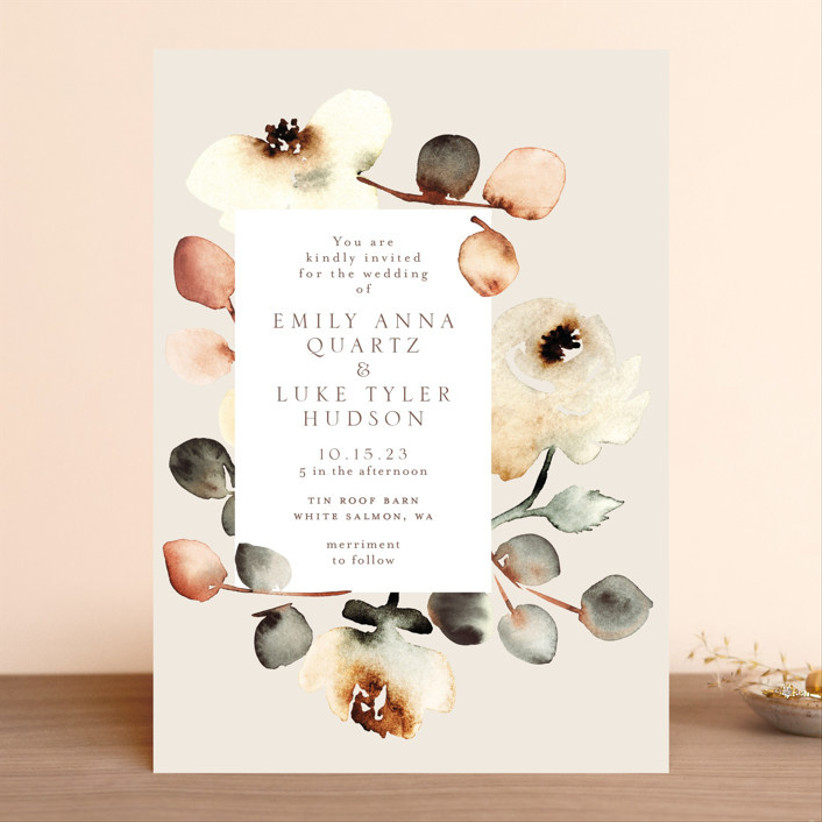 We love the muted fall color palette of pale yellow, sage, and burnt orange on this abstract greenery design. 
Petra Kern bella mia invitations, $234 for 100, Minted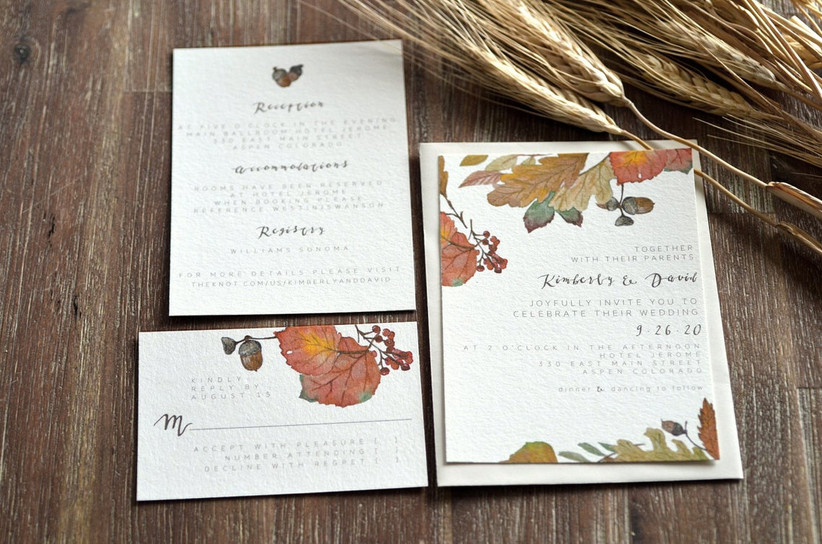 The rich colors, acorns, and watercolor leaves on this fall-themed invitation suite are giving us all the cozy PSL vibes. 
PenguinPlumDesign watercolor leaves invitations, from $3, Etsy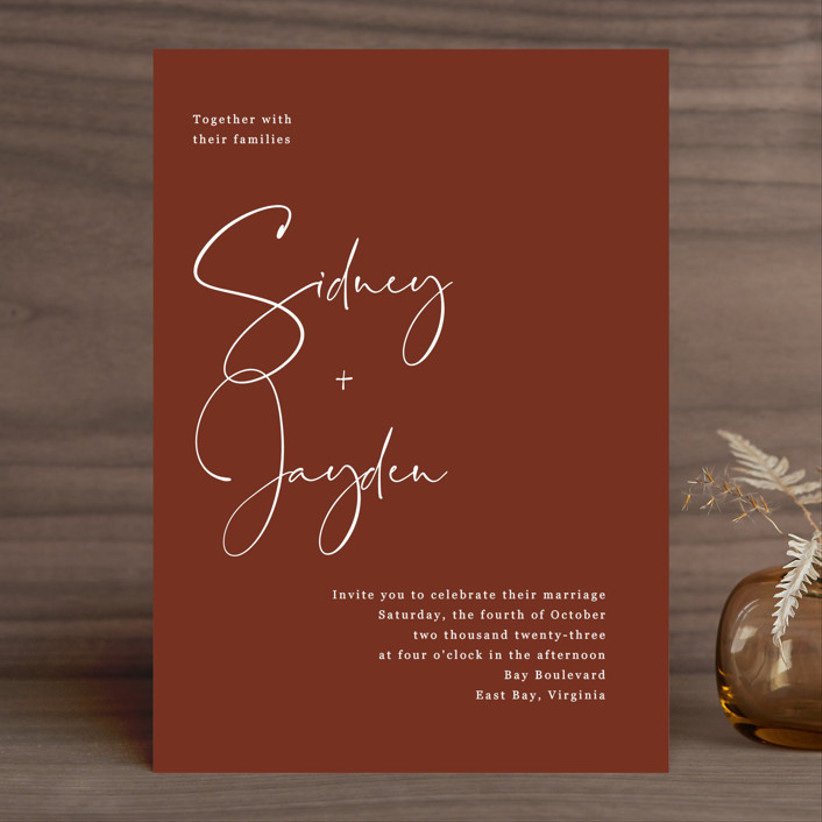 Keep it sweet and simple with a two-tone wedding invitation without any leaves, pumpkins, or other motifs. The red background and statement typography on this design are enough to keep it interesting. 
Cass Loh stylist script in copper, $234 for 100, Minted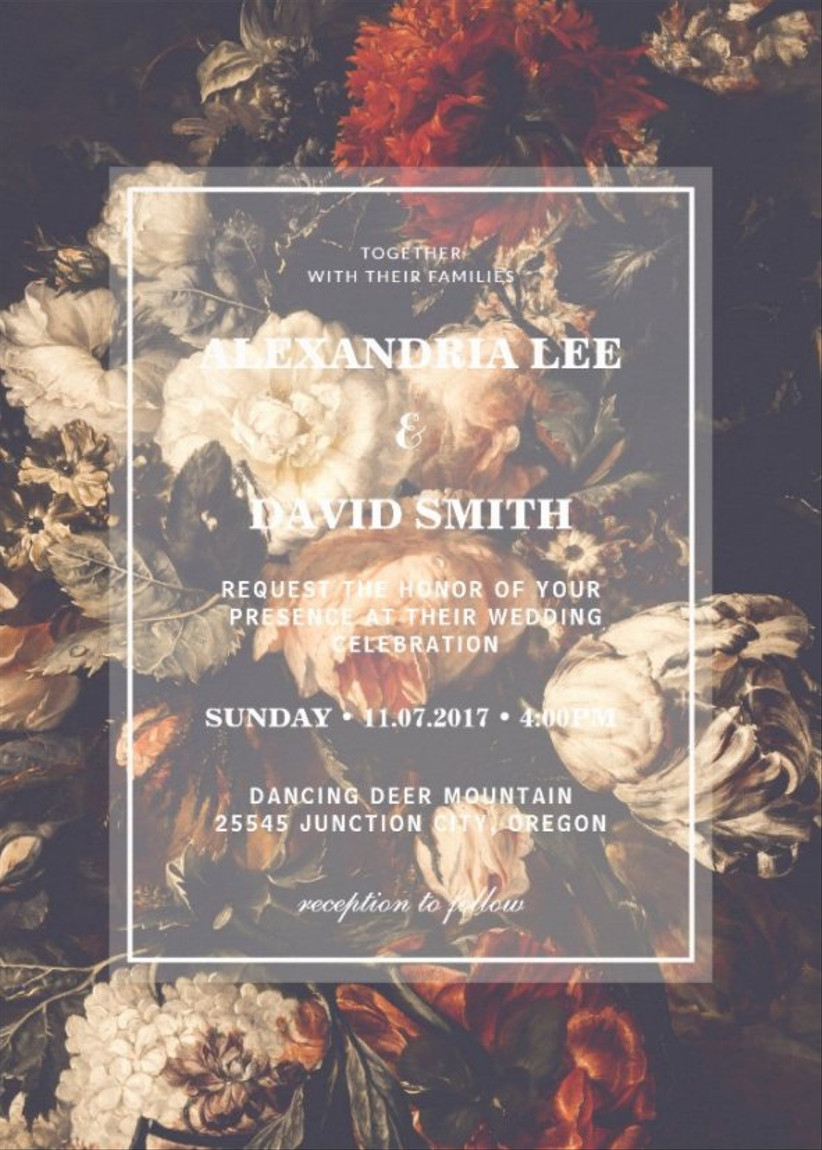 This dark floral design on this fall wedding invitation is reminiscent of a Dutch masters painting—perfect if you're into art or are looking for something bold and unexpected. 
Ethereal Studio moody floral invitation, $3, Zazzle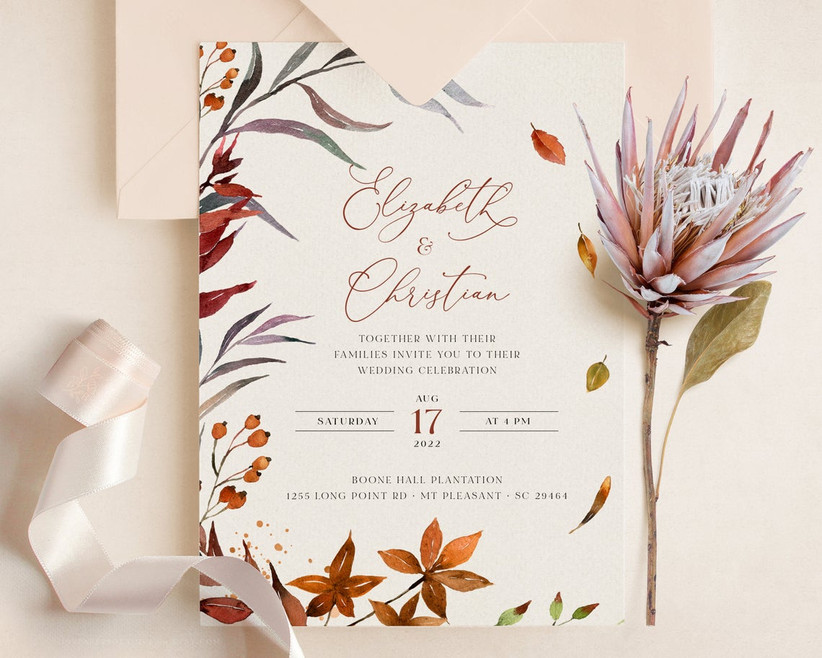 If you're short on time, this invitation template can be downloaded and printed from your own home shortly after you've approved the customizations. The hand-painted botanicals and calligraphy-style fonts are fall elegance at its best.  
DIYPaperBoutique Sienna invitation template, $15, Etsy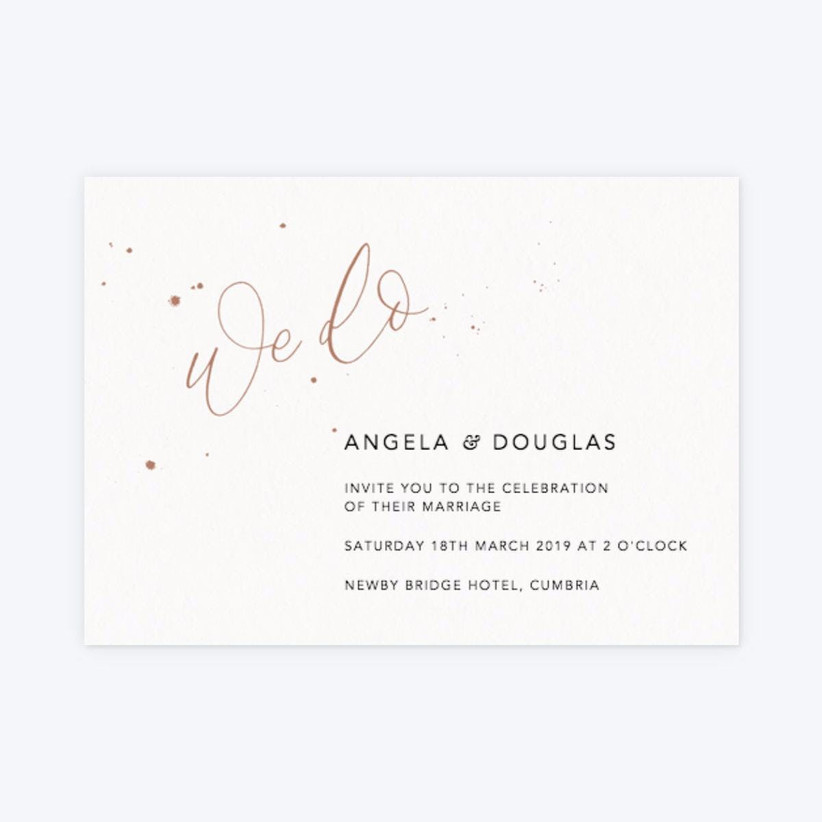 Not big on fall-themed designs and color palettes? We get it. This stylish yet straightforward invitation includes only the essentials.  
Lamplighter London 'We Do' speckle invitation in bronze, $30 for 10, Papier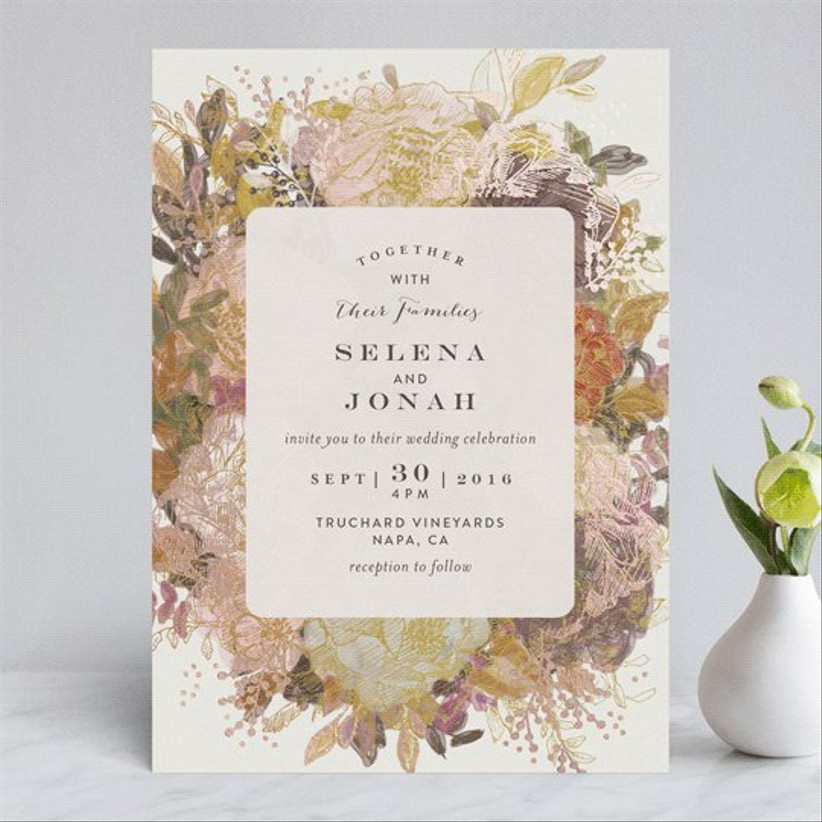 This flower-filled design is a romantic option for your fall wedding invitations. The flowers are outlined with real metallic foil, which you can customize by choosing from eight different options for a truly personalized finish. 
Phrosne Ras floral feast invitations, $270 for 100, Minted
Featuring an abstract oil color background, this invitation is like a miniature work of art (one we think your guests will gladly want to display on their refrigerators). 
Iamtanya crazy in love invitations in forest, $234 for 100, Minted
A simple greenery wreath is one of the most versatile designs for your fall wedding stationery. It complements almost any theme, from rustic to classic. 
Cards by Flora greenery wreath invitation, $3, Zazzle
If you're into the dried flowers trend, you'll love this creative invitation design inspired by antique floral illustrations. We love the neutral color scheme, but it's also available with cranberry, teal, coral, lavender, or cornflower blue text. 
Honeybunch Studio gone to seed invitations in taupe, $234 for 100, Minted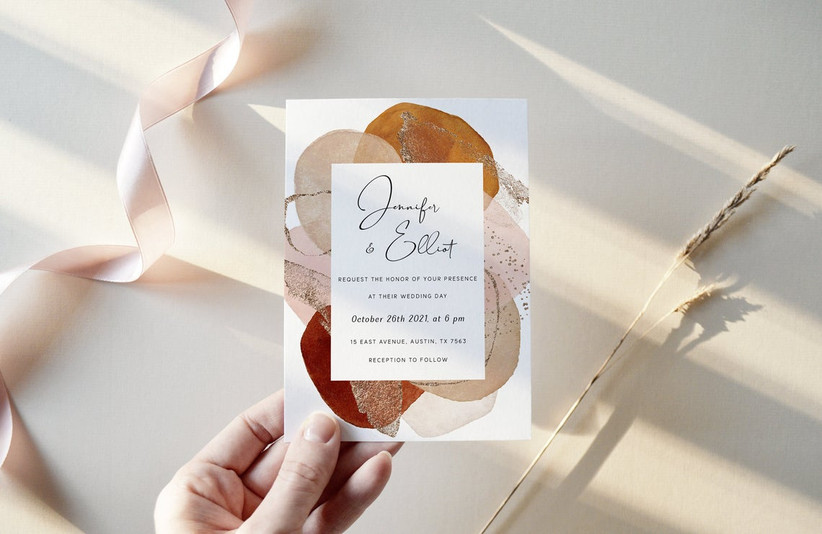 Love shopping at Anthropologie? The abstract circles and color palette on this fall wedding invitation are giving us major Anthro vibes.  
AmbrosiaPrints printable abstract wedding invitation, from $15, Etsy
Choose these Victorian-style floral invitations if you're having a vintage-themed fall wedding. 
Alisa Wismer vintage garden invite, $234 for 100, Minted
Disclosure: This post contains affiliate links, some of which may be sponsored by paying vendors.